Top 10 American Fashion Designers
89
rate or flag this page
Amazon Price: $44.83
List Price: $65.00

Amazon Price: $7.02
List Price: $9.99

Amazon Price: $11.95

Amazon Price: $99.95
List Price: $29.99
Versace, Gucci, Prada ... the names that we hear announced as models walk down the runway are all too often Italian names or the names of other designers who have made their careers in Europe. There is no denying that there are amazing fashion designers in Italy and throughout the rest of Europe. But it shouldn't go unnoticed that there are also some really amazing - and well-known -
fashion
designers working right here in the United States.
Here is a brief look at ten of the best American fashion designers:
Marc Jacobs is a fashion designer who is well-known for his work with the French fashion house Louis Vuitton. However, Marc Jacobs is an American fashion designer who has produced lines of clothing out of New York which are well-respected in the industry. The fact that he's gone international just points to the truth that there are some great American designers.
Vera Wang is an American fashion designer who is best known for her wedding dress collections. Hers is the kind of name that gets regularly mentioned in pop culture (thinkSex and the City or Lipstick Jungle and you'll think Vera Wang). She is also embedded in the culture of Hollywood because of the fact that she has made wedding dresses for a number of celebrities including Mariah Carey, Jennifer Lopez and Sharon Stone.
Oscar de la Renta is one of those fashion designers that many people have no idea where he came from. He was originally born in the Dominican Republic and he has worked in fashion design all over the world. He is famous for some of the fashion design work that he did throughout Europe. However, if you have to get down to the basics, he is actually an American designer since his citizenship is here.
Calvin Klein is a brand name that has changed a lot of the years. It was first launched as a line of coats for both men and women. It became famous as a brand of jeans that were high-end and oh-so-hot. And these days when you look at a Calvin Klein billboard you are probably going to see a super attractive model in Calvin Klein underwear. Throughout all of these changes, Calvin Klein has remained an American brand name.
Kate Spade is one of the trendiest young designers out there. She is best known for her line of handbags but what is really cool about Kate Spade is that she's got accessories and raincoats and personal organizers and makeup and even a home furnishings collections. She's a do-it-all kind of gal for those DIY girls out there. And she was born in Middle America, working now out of New York.
Ralph Lauren is best known for his Polo collection but he's produced a lot of different designs that always get attention because he is a leading international designer. He is also a designer that works from America and his brand is an American brand. He has over thirty five boutique stores that carry his clothing all over different parts of the United States.
Anna Sui is a fashion designer that we sometimes forget is an American designer because of the fact that her designs are so popular all throughout the world. She has boutiques in a number of different countries and her work is particularly well-known and well-liked in Japan. However, despite this international appeal of her work, Anna Sui is very much an American designer. She was born in Michigan and has had a highly popular boutique store in Los Angeles for more than ten years. In addition to clothing design, Anna Sui has dabbled in shoe design and a fragrance collection.
Donna Karan is the "DK" in the famous American fashion brand "DKNY". She was born in New York and continues to work in aspects of the company that she spent years developing. Her brand is recognized all around the world and is particularly popular here in the United States.
Todd Oldham is a fashion designer born in Texas; what's a more American place than that? He is a unique designer whose most famous work might be the line of clothing that he produced in conjunction with the Batman Forevermovie. In addition to his fashion design experience, he has experience in design for the home.
Bill Blass is one of the most famous fashion designers to have ever come out of America and he came right from the heart of the country - Indiana. He has won numerous awards throughout the years for his many designs and even attained a lifetime achievement award at the end of the twentieth century. He died of cancer in 2002 but his designs continue to be important and influential to the industry to this day.
These are just ten of the famous American fashion designers who have done a lot of their best work in America. What they have in common is not just that they are from the United States but that they have chosen to continue to keep their brand an American brand even though they have gained international attention. They may have fans and
boutique stores
and even additional jobs in other countries but all of these fashion designers remain, at heart, American fashion designers.
In addition to these famous names, there are also thousands of independent fashion designers working in America today. Head to any major urban area in the United States and you will find it easy to find small clothing stores where
creative people
are putting their clothing designs on the rack for sale to others who like their style. This independent business spirit thrives in America and it allows for the American fashion design scene to differ greatly from the fashion scene of European and other countries throughout the world. The famous American designers cited above are people who give credibility to the American fashion scene but it is all those people working behind the scenes and on a smaller level who really drive the American fashion world!
The other day, taking advantage of the discounts offered by chicagobeauty.com in honor of the National Breast Cancer Awareness month, I took a leap of fate and randomly booked an facial appointment at one of the places listed. Fine it wasn'tthat random, we did make sure it was located in a respectable area so it couldn'tpossibly go that wrong. But who would've thought that such a small, rather cluttered and old facial place could exist there? Naturally when we got a glimpse of the place, we were hesistant and very concerned about the quality of the facial. We stucked it out in the end though. But I was so worried that I just couldn't relax properly.
I don't want to judge the quality of the facial just yet, because I'm still giving it a day or two of grace period to recover from all the redness before deciding. But this experience brings up the question of how one should pick their facialist. In my previous experiences, I usually go by the word of mouth (my mom) or pick one that is trustworthy by brand and reputation like Georgette Klinger or spa's located within 5 star hotels. I know that expensive doesn't always mean good, itdoes buy you a sense of security.
So when trying out new facial places you know little about, what inspires more trust and confident in you- a posh place with an ambience of professionalism, or a no frills place with a more home-made natural approach?
Cute Chunky Cardigans
LOL an alliteration. And yes I know. Cardigans are usually a tad old for us. But looking around and seeing girls looking so cozy, cute and effortlessly casual in their chunky cardigans, has made me think that maybe with the right combination, its not so bad after all! So here are some of my inspirations on how to wear a cardigan in a more fashionable and young way.

A sure way to avoid looking old is to get a cardigan that is way off the norm that it can barely be called a cardigan. Like this one from Free People, with the random patch work, short length and floral trimming. Definitely not something you'd see grandma wearing. I also love how they matched it with a bright colorful but plain spaghetti strap here.

Taking this the other way around, you can match a plain chunky cardigan, like this one from Top Shop. . .

. . and match it with an interesting, printed/patterned/striped colorful spaghetti strap.
Same idea here with this short sleeved cardigan over a printed long sleeved tee from Urban Outfitters by Lux. The layering of a chunky cardigan over a thin tee is just right and not too messy. Although I must say, I'm not very fond of this xmas color scheme at all.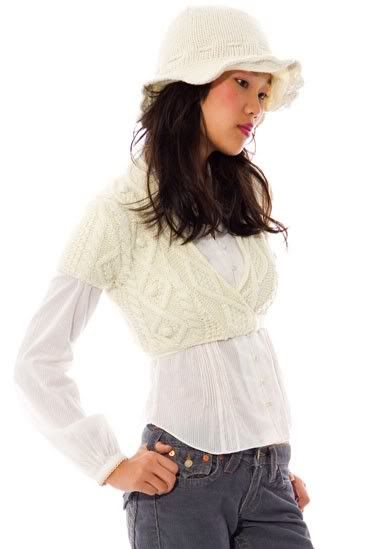 But my favourite cardigan look is this one from Free People. Actually I'm not even sure if it can be termed as a cardigan, but it IS chunky, cute and cozy right? I just LOVE how they matched this outfit. I saw a designer do it this summer at work, and I thought, "wow, who would've thought a dress shirt and a cardigan would go so well?"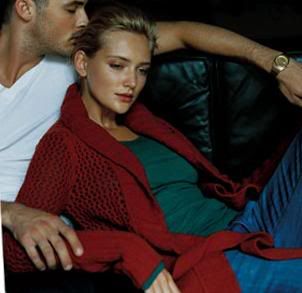 Then there are the more conventional long cardigans, like this one from Anthropoligie. Worn simply like this in a contrast with the simple tee inside, it just soo effortlessly casual. But again, maybe not red and green unless its xmas. Black and magenta? Dark purple and forrest green?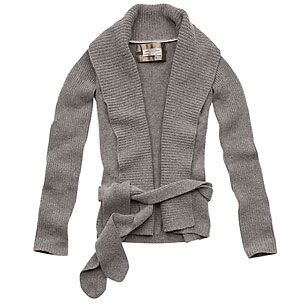 Grey and gold? Grey and red? (this one is from Abercrombie)
Then there is the traditional cream cable cardigan. This look, over a denim blazer and shirt, is so country American, that it can only be from Ralph Lauren, Polo Sport.
Of course, a splash of funky, dangly accessories (this one from UO) always helps to give a touch of style to an outfit!
So go out and have fun with cardigans! Fall is the perfect weather to wear it, don't wait until its too cold!
OCTOBER 28, 2005
Hairstyle Trend Fall/Winter 2005 I
This season, 60s hairstyles are big -and I mean that literally. Here, I don't mean the super straight hair, mod hairstlye, I'm talking about the big and glamourous hairstyle. Think Jean Shrimpton. Here are some wonderful inspirations:
Dolce & Gabanna FW05

Dolce & Gabbana FW05

Alexander Mc Queen FW05
I LOVE the Dolce & Gabanna hairstyle -so gorgeous! The Alexander Mc Queen hairstyle is a bit too frizzy, but still a great example of this hairstyle. So let's break this hairstyle into two simple things we need to focus on: volume and tamed hair.
So how do you achieve this gorgeous hairstyle? Well, for the Dolce & Gabbana catwalk show, the hairstylists had to do this:
Obviously, we don't all have the luxury of having professional hairstylists do all that for us. So here's a simple way which we can all do at home:
Firstly, you need styling products to add major volume! I recommend Kerastase Volumactive and Bumble & Bumble Thickening Spray. I've personally tried both, and both are great! I mean, you obviously can't expect the products to create the catwalk hair, but they def make your hair more alive, more bouncy!
Tip: Put these volumising products only at the roots. Putting them at the ends would just weigh down the hair.
Bumble & Bumble Thickening Spray
Secondly, you need a round brush.
Tip: While blow-drying your hair, use the brush to brush each layer to the opposite direction your hair usually goes to create volume.
Thirdly, you need some sort of styling creme to tame your hair. I can't stress how important defrizzing your hair is. If you like, you could opt for a straightening product. Right now, I'm using Bumble & Bumble Grooming Creme. It gives your hair more texture and a soft hold. It also moisturizes color-treated hair and defrizzes. And it's not oily, so it won't leave your hair greasy.
Tip: Apply such cremes from the middle to end of your hair. Use your fingers to comb products into hair.
Bumble & Bumble Grooming Creme
If you're out for a big night and want some serious volume, spray some super-hold hairspray at the crown of your head and backcomb your hair to give it an extra lift. But don't do this everyday because it could damage the hair cuticle.
A final tip: It
's optional whether you use volumising shampoos and conditioners, but do put more conditioner at the hair ends and less at the roots as conditioners tend to make hair softer, thus making your whole hairstyle flatter.
Now you all should know how to get this season's striking 60s hairstyle!
OCTOBER 27, 2005
Wear Blouses Stylishly
Now that we're in mid-autumn, it's the perfect time to wear blouses. When you see someone wearing blouses, it usually leaves you one of these two impressions: old fashioned or/ and tacky, OR stylish and proper. You obviously don't want to look old-fashioned or tacky, so how do you achieve the latter?
Once again, we take inspiration from the well-dressed Rory (Gilmore Girls.) Here, she wears a multi-coloured Marc by Marc Jacobs blouse with a simple black sweater over it. The simple black sweater is essential because without it, the blouse would be seriously bright and border the kind-of-tacky-line.
Here are some blouses I liked:
Cacharel Floral Print Gypsy Blouse -This is my favourite blouse from my selection. Go check out other choices from Cacharel -they're sooo pretty!
Diesel Acchi Shirt -A touch of Indian influence.
Gap Ruffled Button Shirt -Excellent choice for people who like simple, subtle prints. Not to mention that it's affordable!
L.A.M.B. Secretary Blouse Gothic Print -Another seriously stylish blouse. Even though it's supposedly has gothic prints, I think it's 'feel' depends on what you match it with.
Paul & Joe Lily Western Detail Shirt -Another v pretty shirt. This is one of those shirts that you should wear a sweater over. Otherwise, you'll be seriously pink
!
Wearing blouses are great for daywear, whether to go to work/ school or out for a nice lunch. Just don't wear them to super casual events or clubs!
OCTOBER 26, 2005
A Survey on School Bags
Phew! Today's been a long day. After I did an awful presentation for my Employment Relations class, I had to help out at the signup stall of a society I am a committee member of. So while I was sitting there getting really bored because nobody was signing up, I was thinking about what to blog about today. Then it hit me: school bags and statistics!
Don't freak out. It's more serious than our typical post, but hey, do YOU ever notice what bags people at your campus or your workplace carry? I reckon that bags used in university are pretty similar to the ones used in offices because they serve a similar purpose: to carry paper around.
Back to the point, I was sitting on the main 'street' of my school campus and did a little survey. Basically I counted how many bags of a particular brand walked past the signup stall from 1:45pm to 2:15pm, which is the end of lunch hours. Just some extra information: I go to a London university which has a tiny campus and a high international ratio. Here are the results:

67 Guccis -THE most popular bag at my uni. Gucci has a large variety of monogram totes and large bags which are stylish and strong enough to put all the books in.

58 Longchamp -Loads of girls carry Longchamps. I personally don't like them but I can understand that they are practical and are available in many colours.

6 Louis Vuittons -Quite a few people, male and female carry Vuittons. The most popular one is the messenger bag. But only a few people managed to carry it in style!

3 Pradas and 3 Burberries -The Pradas are usually carried around by seriously stylish people. When I say Prada, there were both the classical nylon bags and the beautiful leather ones. Just to make this a fair survey, I must note that Pradas are usually harder to spot because Prada is just subtly stylish that way, so I may have missed a few. And well, Burberries are always a favourite among students.

1 Dior -There was this girl carrying around a Dior saddle bag on her shoulders and her books in her hand. So impractical!
Another reason I did this survey is because I'm thinking of buying a new school bag myself. Now I have a slightly better idea of what I want. Tell us what school bags the students at your school uses! I'd love to know!
OCTOBER 24, 2005
The mid-2000 Supermodel: Daria Werbowy
Most people who read fashion magazines or gossip pages would only notice and read about models who have reached the celeb or 'supermodel' status, such asCindy Crawford, Kate Moss and Carmen Kass. (BTW, you know the model has made it if she reaches a single name status, such as Gisele.)
So while argueably, supermodels don't exist anymore, at least not as strongly as they did in the 80s, once in every few years, there is always one or two certain models who are obviously successful and memorable. In the late 90s/ early 00s, there was Gisele, (who of course was made extra famous because of her boyfriend, Leonardo Dicaprio.) Now in the mid-2000, we have Daria Werbowy.
So who is Daria? You most definitely have seen her around. A lot. But you might just not recognise her, or even realise that so many ads feature the same model. Daria who is a Canadian (originally Ukrainian,) shot to high-in-demand-status after she was discovered and featured in the Prada F/W03 campaign (see above picture.) Since then, and especially this year, she has been featured in A LOT of big campaigns, from high street brands such as Zara to high-end brands such asGucci and David Yurman.
I think the biggest reason for her success (other than her stunning looks of course,) is that her look is so versatile. In the Gucci ads, she looked dark and sexy (see above.) In the Prada perfume ad, which EVERYBODY should have seen before, she looked soft and feminine, (see above again.) In the Misonni ad last season, she was featured with blond hair and did NOT look weird at all.
Here are a couple of recent campaigns you might have seen her in:
Chanel S/S05
Zara F/W05

Gloria Vanderbilt, (left to right:) Gisele, Kate, Daria
And most recently, Daria is featured in the new Lancome Hynose perfume ad:
The first time I saw this ad was in last week's Times magazine Style & Design issue. My first impression was, oh my gosh, she looks so stunning, and fitting with the perfume's name, Hypnose. Doesn't she look so amazing? This is one of my favourite ads of hers.
Unfortunately, it seems like she's taking a break from catwalk and all, but let's hope she comes back soon!
OCTOBER 22, 2005
The Lacoste Fundraising Polo
It seems the trend in the fashion industry today is to join fashion with charity. The Ralph Lauren Pink Pony collection for the Pink Pony Fund for Cancer Care, is an excellent example of that. The latest brand name to join their leagues isLacoste in collaboration with Barneys for the Elizabeth Glaser Pediatrics AIDS Foundation. The way I see it, they are targetting two markets. The super-rich market and the not-so-rich market.
For the super rich market, the genius' from the Lacoste/Barneys marketing team came up with the one of a kind celebrity made polo to be bidded on bidz.com. "One of a kind celebrity" being the 5 magic words. Like this one where Teri Hatcher draws a beach scene on a plain white polo top-fetching for (at the moment) $301!
But thats not all. The bidding price for this white polo with crystal button, by the designers behind the brand Chrome Hearts, is a whooping $800!!
As for the not so rich consumers, they came up with the limited edition black golden alligator polo. And for "limited edition" and "golden alligator" they raised the price of the average Lacoste polo from $72 to $150! And from the fact that I cannot find any pictures or information of it anymore (they officially came out this Thursday) I reckon they're already sold out!
I commend the marketing team of this campaign.
Mary Kate and Ashley's Interpretation of Black
It's already mid-autumn so there's no way that you haven't seen at least one big'Black is the New Black' plastered over style magazines and newspapers. And you must have seen lots of photos of gorgeous black clothes draped over the beautiful models from the fashion shows. The question is, how do normal people, aka we wear so much black and not look like we're simply boring. So today, I've decided to see how two of my fav. inspirations, Mary Kate aned Ashley are wearing this trend.
The great thing about looking at the Olsens is that there's two of them, meaning that you can see two very different styles but of similar trends. Ashley's outfits are always more polished and ladylike -totally cosmo city girl style (with flip flops.) Mary Kate's outfits as we all know, are more bohemian luxe influenced, always seemingly carelessly thrown together and gives off a really relaxed vibe.
Olsens' black diary: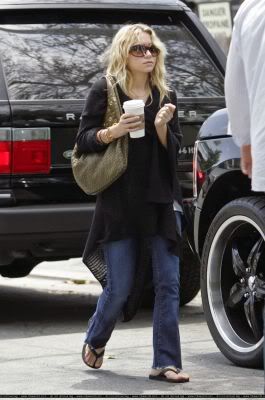 29th May: Ash decides to start wearing the 'black' trend early with this casual long, flowy coat. This look is perfect for any day because it's so easy to throw together and jeans are one thing that we all have. And notice: she's traded in her Balenciaga for a Bottega Veneta.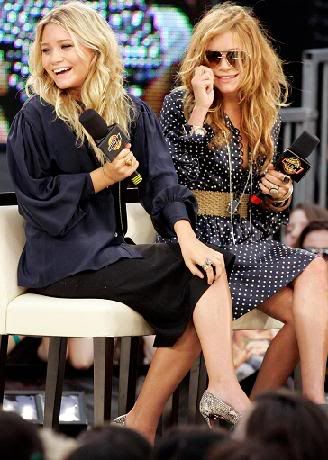 30th Aug: MKA makes appearance at Much Music in seriously stylish flocks. I LOVE their outfits here. Two things to note here: Ash's sleeves are clinched, which transforms the loose sleeves into this season's big volume look. MK not suprisingly opted for a vintage-looking creation. And see that thick belt around her waist? -another big trend this season.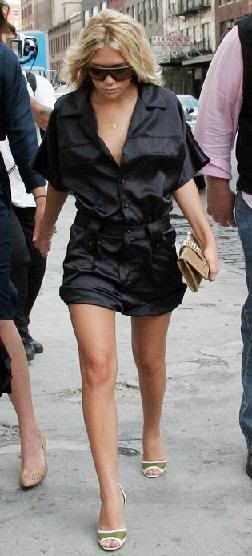 10th Sept: Ash arrrives at the Calvin Klein SS06 fashion show in New York. She's wearing a classy military-style mini-dress. Mini-dresses are great this season -wearing heels like Ash here is great, but in winter, put on some stockings and leather boots!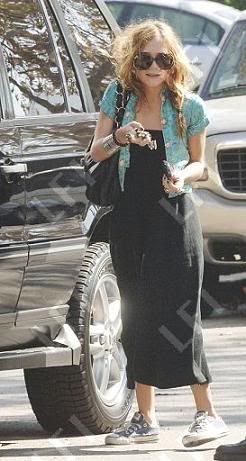 1st Oct: MK visits her friend in LA in a super casual boho outfit. All black is thething this season, but feel free to use other clothing items such as shrugs and short jackets to add color and synergy to the outfit. And look! Even MK's traded her Balenciaga in for a Chanel!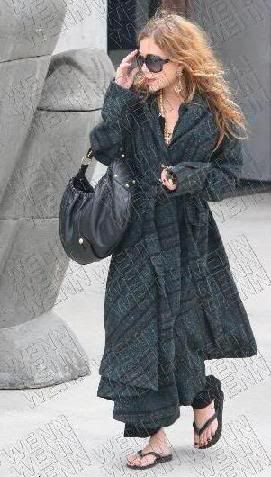 19th Oct: MK shops in LA in all black. She's so black that she looks weirdly lady-like and elegant! Remember ladies, if your coat has a belt/ sash on it, remember to tie it around your waist to make it look more defined. And how does MK avoid looking 50 years old in all black? By using her special talent, accessorising of course!
Hope everyone managed to get a few inspirations from the oh-so-stylish Mary Kate and Ashley!
OCTOBER 21, 2005
Lancome L'Extreme
So I finally got around the trying out the new Lancome mascara (well actually I tried it out as soon as it came out-it just took me this long to get around to blogging about it ;)): L'extreme. Naturally I was really excited, because Lancome is indisputably one of the best mascara makers on the market. And us girls are always on the look out for the perfect one.
As the name implies, it is lengthening. This one claims to extend your lashes to up60%! I cannot say if it really did extend up to 60%, but I can say that it was suprisingly lengthening. Personally I can never tell if a mascara is lengthening or not, but I have it on good authority (my mom) and various other sources (my friends) that this one really did work. Harrods Girl has even tried the Hypnose on one lash and the L'Extreme on the other to compare! And the beauty of this mascara is that while it is extremely lengthening it is not voluminous, making it puurfect for the natural everyday look!