Brazil's lands was officially discovered in 1500. It was ruled by Portugal until 1822, when Brazil became an independent country. After that, a huge number of immigrants, from Europe and Asia, arrived in search of a piece of land and a new life. Today, as a result, Brazil is a country with a very diversified culture, made by Europeans, Africans, Asians and native Americans.
It is
is one of the world's largest and most populous countries. Its size and diverse population provides great variety in the natural environment, culture, and economy.
Estação Julio Prestes in São Paulo. The old train station is today a big cultural center.
Part of the Iguaçu Falls complex. The height of the falls ranges from 60 to 80 m. It surpasses Niagara Falls in size and beauty, and is one of the great natural wonders of the world
(Ministério do Tursimo).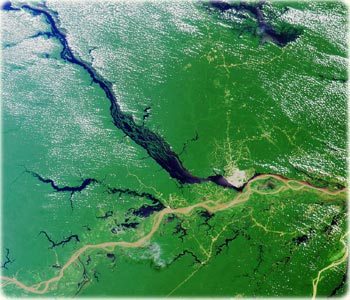 This image from MISR's vertical-viewing camera was acquired on July 23, 2000. Close to the city of Manaus,

Brazil

, the Rio Solimoes and the Rio Negro converge to form the Amazon River. Manaus is the gray patch to the right of image center.
The pale, murky color of the Rio Solimoes heralds its burden of glacial silt and sand, which results from its origin in the Peruvian Andes mountains. The dark color of the Rio Negro is characteristic of clear waters that originate in areas of basement rock and carry little sediment. East of Manaus the pale and dark waters flow side-by-side as distinct flows before they eventually merge.
Northwest of Manaus on the Rio Negro is the Anavilhanas Archipelago, the largest group of freshwater islands in the world and a

wildlife

reserve. At the top of the image, a portion of the dark-colored Uatuma River is visible. In the lower right is the very light-colored Rio Madeira, formed from mountain streams originating near the Brazil-Bolivia border. Madeira is Portuguese for wood, and the river is named for the large amount of driftwood that floats on its waters (NASA).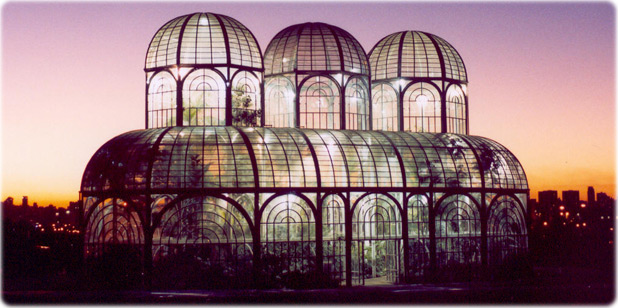 T
he Ecological Capital of Brazil
Curitiba is one of the most prosperous and organized cities in Brazil. It is also a world-wide example in urbanism solutions, education and environment.
In the 1960s, a master plan was adopted for the urban-design transportation system. Today, this rapid transit network is a successfashioninn4us.blogspot.com